Stella Maris Cronulla Celebrates New Era
It was a full house in Stella Maris Chapel as many gathered to celebrate, honour and affirm the mission and ministry of Stella Maris and its future vision.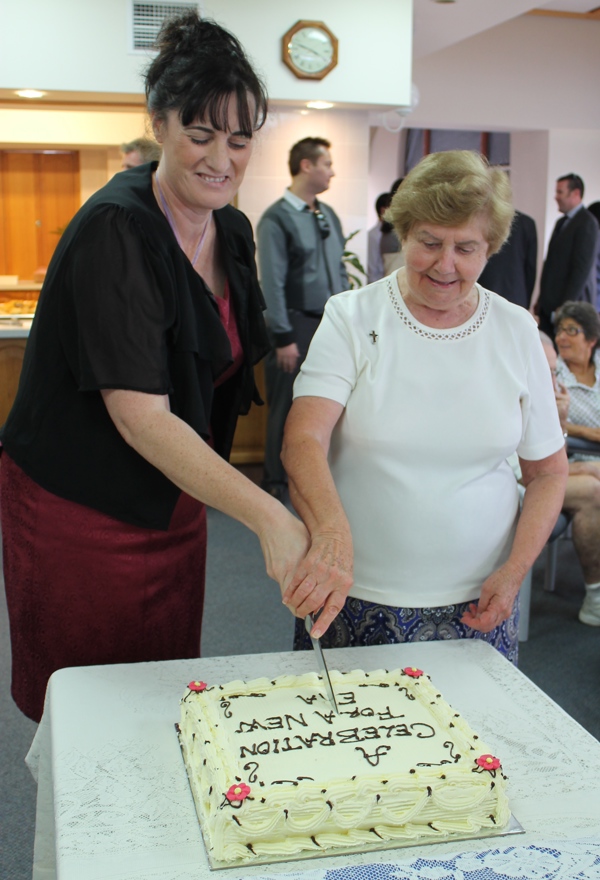 The Sisters of Mercy Parramatta were joined by the staff, volunteers, ministry partners, residents, friends and supporters of Stella Maris Aged Care Facility as they gathered to celebrate the successful completion of the refurbishment of the facility and grounds, and to mark the beginning of the next stage in the long history of compassionate and professional care to the frail and aged in this place.
The site upon which the present Stella Maris ("Star of the Sea") stands, has long been a place of compassion and mercy. Initially purchased by the Sisters of Mercy Parramatta in the 1920's as a convent for sisters working in local schools, the site has been home to a number of the sisters' ministries including a primary school, a girls high school (the original OLMC Cronulla before it relocated to Burraneer Bay), and a convalescent home for sisters, before the present purpose built residential aged care facility was opened in 1987.
In 2011, Stella Maris was incorporated and a Board appointed, a short time later, the Board entered into a management agreement with St Vincent's Health Australia to provide the day-to-day management of the facility.
In September 2012, works commenced on the complete refurbishment of the facility, including the conversion of the top floor to increase the number of available beds from 55 to 72, and the installation of sprinkler systems and other fire and safety upgrades throughout the facility.
In her address at the commencement of yesterday's ritual, Sr Catherine Ryan, Congregation Leader, acknowledged the extraordinary efforts of the staff, especially Ms Melanie Grace, Facility manager, in continuing to provide care of the highest quality to residents throughout the refurbishment process. Residents and their families were also thanked for their patience and resilience in living through the building process.
Representatives of St Vincent's Health Australia, including Ms Helen Millar, General Manager St Vincent's Care Services NSW, participated in the ritual along with representatives of the Project Managers Midson group and Builders, Stephen Edwards Constructions.
Chair of the Board, Mr William Walker, spoke with enthusiasm of the important mission and ministry of Stella Maris. The completion of the refurbishment marks the beginning, not the end, of the Board's vision for the future of Stella Maris in which compassionate, professional care respecting the dignity of each individual is provided in a distinctly Christian environment.
Following the blessing of various sections of the buildings, guest were invited to move to the activities room for refreshments and the cutting of the cake by Facility Manager Ms Melanie Grace and Sr Claire Coyle, former Inaugural Administrator and continuing pastoral carer for the sisters in residence.
Learn more about Stella Maris


Back to all news