Mercy Sister awarded a Medal of the Order of Australia (OAM) for service to education and to the church
Sr Barbara McDonough among the 2022 Australia Day Honours List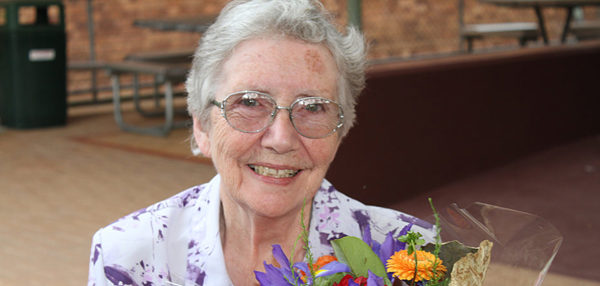 Barbara McDonough is a Sister of Mercy of sixty six years standing. She has been an extraordinary educator from 1956 to 2001. She started her education profession firstly as a gifted and much loved teacher and moved through various school roles to become an exceptionally talented, contemporary, innovative and compassionate principal. She was Principal at Catherine McAuley School Westmead from 1985 through to 1988 and at Holy Cross College Woollahra from 1989 to 2001. Over the remaining years she taught and/or was deputy principal at Mercy Schools in Epping, Woollahra and Westmead and had a ten-year term at Our Lady of Mercy College Parramatta, her former Alma Mater.
Tributes from school communities
On paper this may look like something any educator could have done, however, it is in the way Barbara carried out these roles is what makes her stand out. Many have known her as an intelligent, gracious, talented, humble, compassionate woman. The words of others speak about her influence and the impression she has made in several communities. They come from her times in the Parramatta, Woollahra and Westmead school communities.
Barbara became Principal at Holy Cross at a time when the school was struggling and it was deemed necessary to combine two school communities to make one cohesive unit. Some comments from reviews at this time tell us: 'Sr Barbara has led Holy Cross through a very challenging and complex period of its history. Sr Barbara's extraordinary courage, care, patience and commitment to the students and staff during the past five years have been rewarded by a school whose identity and direction is becoming clearer and more strongly focused.' 'Sr Barbara is perceived as a leader who is sincere, courageous, supportive and fiercely loyal to people'. 'Her leadership style is one of collaboration. She consults widely before decisions are taken, encourages debate on issues and models a great gift of listening carefully to all opinions.' A letter from a parent states in part: 'Thank you for your caring guidance which has influenced the growth into adulthood of my daughter. It is reassuring to know that through your efforts, you have assembled a school with moderate fees but with high assets in the caring group of teachers who have helped our girls to become the well-adjusted, caring and capable individuals they are today. The spirit of your school beautifully manifests itself in the example of the care of baby .... by your staff and the students. I am quite sure that this would be a rare occurrence in many other schools in the area'.
During Sr Barbara's time at Holy Cross she initiated overseas students from Indonesia to enrol at the school and set up a house for their accommodation and became a house mother to them. She says of her time in this role - which was concurrent with that of being Principal - 'Now I know too, first-hand what it feels like to be packing lunches for a "tribe" early in the mornings and cooking the evening meal when one comes home from work. But I must say I have enjoyed it, nevertheless, the girls have been a delight, and we have really operated as a family, with myself as chief guardian.' At the end of her time at Holy Cross Barbara wrote to her Year 12 students a long letter which ends with: 'Though I will no longer be at Holy Cross, I am still interested in and keen to help you if ever a need arises. Please ask.'
That is the essence of Barbara and women from all over Australia and beyond continue to engage with her and appreciate the essence of this wonderful woman.
In the 1960s the NSW education system was significantly changed under the Wyndham Scheme and new subjects, mainly in Science were opened to students. Barbara was a trailblazer in those years becoming an 'expert' female science teacher and was actively involved in establishing the Catholic Science teacher Association.
When Barbara was leaving Catherine McAuley Westmead it was written: 'Sr Barbara , so long an integral part of the school leaves the community she has fostered and, as such, has been the cornerstone upon which we have depended. When Sr Barbara leaves there will be a great deal that will remain - not just the buildings but an enthusiasm for work and a co-operative and caring community that really has been the result of her "striving for higher things".'
In 2011 OLMC Parramatta opened a new building and named it in her honour. It is the Barbara McDonough Student Centre named to 'recognise her rich legacy as a Mercy educator and leader.' In 2012 Catherine McAuley Westmead also named a building to honour - the Sr Barbara McDonough Building which was a new Learning Centre. The naming of these two buildings speak for themselves of the high esteem in which Barbara is held.
Barbara also was elected to the Sisters' Leadership team in (1998-2004). She served on the OLMC, Mamre Plains and Catholic Care Boards. She has assisted the Indigenous Community Volunteers for many years. She has engaged with refugees and aboriginal people and supported various charities. She continues, at 84, to serve the Sisters as Congregation Secretary. and only recently completed her work on the OLMC Alumnae Committee.
Back to all news
More News Stories